Container for MODIFICATION/ CONVERSION
One can hardly imagine the limitless possibilities of converting shipping containers into work or life stations using customized doors, windows, insulation, and interior paneling with aluminum, PVC, wood and steel products.
As these mobile units could be used as homes or offices, portable container solution makes them attractive, offering varied color schemes, carpeting solutions and even concrete bases. Provision for electricity has also been carefully thought out, so that these units could be easily converted in to mobile homes or functional offices!
It is amazing how 20 or 40 foot containers could be converted into bathrooms, cafes, lunchrooms, medical rooms, store rooms & workshops instantly
What is great is that it could all be done in a short lead time and lower cost when compared to constructing permanent structures. Time plays a fundamental role when setting up emergency offices for operations like rescue operation stalls after natural disasters.
Expansion of the structure is possible as any number of containers could be fused together by removing the side panels for a wider floor area.
Solutions can also be provided if the ground area is smaller and if space needs to be allocated vertically by stacking these containers two high.
We also provide additional features including additional roofing and staircases designed to enhance durability and functionality. The converted containers could be used for a period of over 20 years if properly maintained.
Once specifications and designs have been discussed and finalized with a customer, the fabrication team will undertake the conversion of the container at their workshop and transport these portable units to the customer's site to carryout final installations there.
our diverse customers range from NGOs, international and local construction companies, project developers, hotels, restaurants, medical companies, government institutions, event organizers or an individual looking for a temporary home.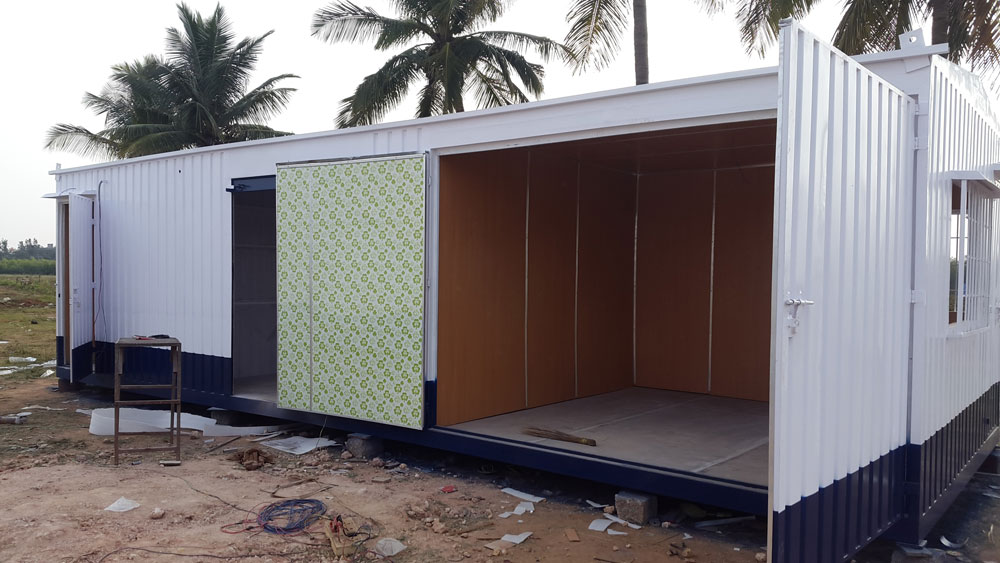 Container for Repair or maintenance
Portable container solution has a full and dedicated production team committed to performing unsurpassed work and service. We specialize in the repairs and maintenance of cargo containers and their modifications, and understand that you may require onsite service.
The industry experienced portable container solution maintenance team is available 24/7 for onsite and call-out repairs and maintenance.
It is amazing how 20 or 40 foot containers could be converted into bathrooms, cafes, lunchrooms, medical rooms, store rooms & workshops instantly
Got a problem with your container? Maybe you discovered a dent or a cut that needs patching up
Not a problem. Portable container solution can help you out. Portable container solution is a market leader in following International standards in repairing cargo containers.
At Portable container solution we also understand that moving a cargo container to a repair site is often not an option, especially if it's being used on a daily basis.
That's why we offer on-site repairs and maintenance, which means you don't have to move your container in order to have your problem solved. Just call us up and we'll dispatch our maintenance team to your location.
The Portable container solution Maintenance Team is professional and experienced with over 10 experience, we know-how to repair and maintain any cargo container, in any shape. Whether it's a big problem or a little problem, we can deal with it for you.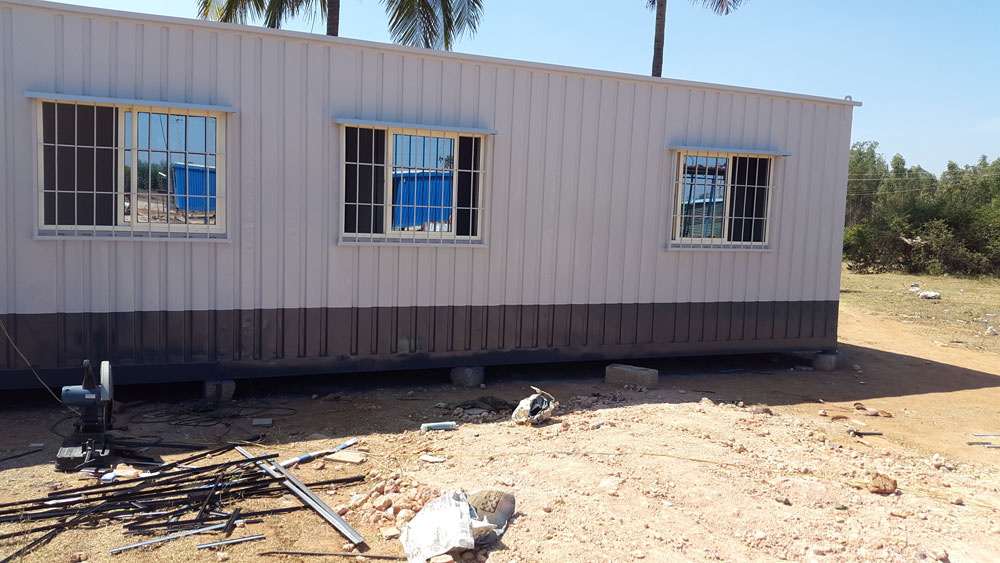 Container for sale
Portable container solution stocks a range of used shipping containers ideal for any general storage use such as cars, furniture, machinery, farms, buildings and construction sites. They are also perfect for signage and converting to a home or site office. The possibilities are endless!
Our standard sales containers are all wind, watertight and vermin proofs, made from solid steel with double doors and timber flooring and have been put through our workshop for inspection.
If you are undecided on a purchase we can facilitate a short or long term rental arrangement to assist you. We have a range of containers on site ready for delivery our creative design team is ready to make your vision a reality. Visit our office to meet with the team and take a tour of our modern facility.
So call us today for a competitive quote.
Container Hire / Rental
From our base in HOSKOTE, Bangalore, we provide a wide range of containers for hire throughout the south India. With minimum rental periods of only 3 months. .
Hiring a container is a cost effective and popular means of storage for site, commercial and household needs.
We offer shipping container, M.S office containr, storage typ, security guard container, toilet container site office container along with accessories on rental basis .
If you need help selecting the right grade and type of container for your specific storage needs please complete an online enquiry or contact us for more information.